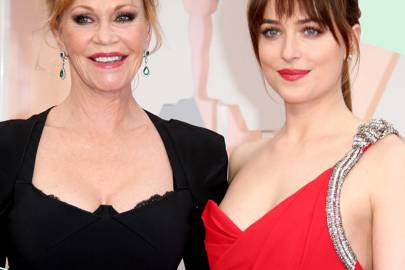 Celebrities are just like us. Well, in the sense that they have a sprawling network of close and distant family members too, but there are some A-listers who have fellow famous members on their family tree. Okay, so not quite like us.
While some celebrity family members are easy to pick, like the Hemsworth brothers or siblings Jake and Maggie Gyllenhaal, others are not so quick to place. Did you know that Stanley Tucci is related to Emily Blunt? Or that Barack Obama is distant cousins with Brad Pitt? Yep, our minds are blown too.
What about Kate Middleton and actress sisters, Elle and Dakota Fanning? Their connection goes way back. (We're talking King of England in 1272-back).
Or how about Game of Thrones star Jason Momoa and Big Little Lies actress Zoë Kravitz? We've done the research for you and detail the 33 celebs you didn't know had famous connections, below.