Celebrity News
Ariana Grande's Wedding Proves Intimate Wedding are This Year's Biggest Bridal Trend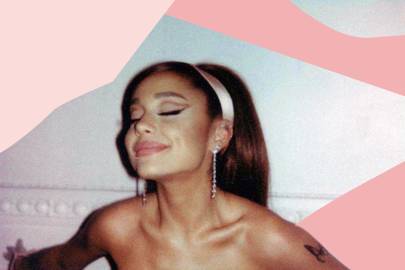 Ariana Grande is a married woman. The singer tied the knot to her beau Dalton Gomez over the weekend, with her rep confirming: "They got married. It was tiny and intimate – less than 20 people. The room was so happy and full of love. The couple and both families couldn't be happier."
Since the announcement, TMZreported that the wedding happened at the couple's home in Montecito, California.
Ariana isn't the only celeb to have a low-key wedding this year. Aubrey Plaza shocked us all when she casually let it slip that she had married her long-time love Jeff Baena while Kristen Wiig also revealed she had quietly tied the knot with Avi Rothman earlier this year.
"The news that Ariana Grande was married with just a handful of guests comes as no surprise. Many celebrities and even royals (such as Princess Beatrice) are eschewing the typical big celebrity wedding, opting for a chic and tasteful event," Hamish Shephard, Founder & CEO of wedding planning app Bridebook says. "Whether it's due to necessity, or just personal preference, more celebrities seem to be moving away from media circus weddings and going down the more private and intimate route."
So, we're calling it: intimate weddings are one of the biggest wedding trends of 2021.
While the reason for this is obvious (yep, there's still pandemic raging on), Charlotte O'Shea founder of Rock My Wedding says intimate weddings are 'fast becoming a desirable option'.
"A couples budget can go so much further – there are 30 guests instead of 130 and couples are realising they can invite the guests they truly have the closest relationships with, and not only save on their overall budget, but spend more on food, drink and entertainment for those special family and friends rather than spread the costs across hundreds of extra people," Charlotte explains.
"The guest list and seating plan politics are considerably less challenging – and couples can spend more on what is actually important to them by having ultimately less: perhaps that dream designer gown was out of the original budget, but with potentially less transport, accommodation and bridal party outfits to consider, that dress is now a possibility."
Bridebook has seen a spike in what it hails as the 'ceremini' – a small and intimate ceremony, but says that a lot of couples are opting for a smaller wedding now so they can have a larger celebration at a later date with all of their friends and family.
"We are seeing two types of couples; the couples that are relieved that smaller weddings have become normalised, and the couples who can't imagine having anything other than a huge event," Hamish explains.
"Whatever a couple may choose, the normalisation of an intimate ceremony has lifted the pressure off of many to conform to the traditional, big white wedding. At the end of the day, the only thing that really matters is for the couple to celebrate in a way that feels the most authentic to them."
Charlotte notes that some of the benefits of a smaller wedding include couples feeling more relaxed and having more time to actually enjoy the wedding (rather than catching up with relatives they may not have seen for years).
She adds: "The nature of a smaller, less traditional wedding has enabled couples to really think outside the box when it comes to what they wear and how they style their day: rather than having to potentially consider a dozen centrepieces, couples can now have one long table with a statement floral installation, for less than their original floristry budget for example."
What are 2021's biggest wedding trends?
As well as intimate weddings, we asked the experts to divulge other wedding trends to look out for this year.
Sustainable weddings
"Sustainable and zero-waste weddings are on the up, with couples opting to repurpose decor, source seasonal flowers, composting waste food and even composting donating flowers to local hospitals," Hamish says.
"We've seen the number of brides choosing a more sustainable, vintage wedding dress increase by 600% since last year. Some couples are even going green from the very first step, choosing a vintage engagement ring or even a reset family stone."
Colour and opulence
"We are seeing a definite emergence of colour – within all aspects of a wedding, from the gown to the decor," Charlotte reveals. "We predict a return to glamour following the 12 months of staying indoors, with couples opting for evening wear and opulence."
All-out happy hour
Hamish adds: "Missing happy hour has become a national tragedy, and it's set to come back in a huge way – think serve-yourself prosecco taps, fancy tequila bars, and boozy popsicles coming to a dance floor near you."
An emphasis on lighting
"Lighting is fast becoming as important as the flowers and the colour scheme," Charlotte says. "It creates atmosphere and a stunning backdrop for photographs – chandeliers and an abundance of candles are particularly popular."
Fun first dances
"It's only natural that with happy hour comes confidence in dance ability," Hamish says. "Learning a Tiktok dance became a quarantine right of passage, and newly married couples will be eager to show off their new fancy footwork. Be prepared for some seriously questionable, but hilarious first dances."