Movies
'Frances Ha' and Her Imperfect Dance
Modern life is built so much on the notion of connections and networks. One makes different friends for different aspects of one's life – quick hangout, talking about boys, going to the club, philosophical chat, etc. The language we use, when we talk about having friends, focuses on how profitable they are to us. We repeatedly speak about what we get out of a relationship or how it can help us. Frances Ha has never been skillful like that. She is endearing, talkative, and smart. However, she doesn't know how to make friends just for how much 'use' they can be for her. She's in it for something deeper, as revealed in her heartbreaking monologue in the dinner scene:
"It's that thing when you're with someone, and you love them and they know it, and they love you and you know it."
Directed by Noah Baumbach and co-written with him by Greta Gerwig, Frances Ha (2012) follows the story of a 27-year-old New York woman. Frances, as described several times in the film, is 'undateable.' She is quirky, never knows when to stop speaking at parties, and most of the time confused. In a society that is so obsessed with appearances and perfection, Frances is a misfit. There is nothing that screams perfect about her. Frances apprentices for a dance company although she's not really an amazing dancer. She is very defensive about someone commenting on her mess, "I am not messy, I'm busy" and is more impulsive than practical.
She is also alone. It is the film's penetrating loneliness that I come away with as I watch it. I remember when I was growing up, I used to have just one friend. Without her, I would be just by myself. There are vivid images, inside my head, of me eating lunch alone or looking at my classmates having fun from a distance.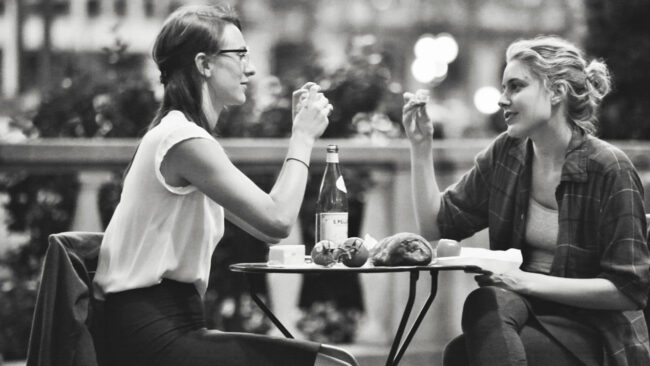 Similarly, after her best friend Sophie decides to move in with another girl, Frances has a sort of identity crisis. She doesn't know what to do or who to be without her. Her downfall both emotionally and financially takes a rise. We see Frances alone most of the time in the film and not because she wants to be. It is because she is having a hard time meeting people who will really laugh at her jokes.
"Me and Sophie are basically the same person with different hair", she says, suggesting how rare their friendship is.
Gerwig plays Frances as someone who is very physical. Her curiosity, disappointment, happiness – everything is visible through her body movements and facial expressions. Her inner monologue is most of the time happening on her face. She is, in a true sense, a dancer. Gerwig, despite being so active as Frances, never feels overbearing. She has a remarkable ability to just exist before the camera even though she is acting everything out.
The use of a black and white aesthetic gives the film a very old look. Frances also, despite all her child-like behaviour, is an old soul; very detached from what modern life actually demands. She is very tall and her friends look small around her. She is also called old and aged by her peers. However, she is also the most relatable. The film's title is revealed at the end of the film when Frances Handley, her full name, written on a piece of paper won't fully fit into the panel indicating her new address. Hence, she has to remove the few letters of her last name. That's silly and on the surface holds no meaning. Just like the film and its protagonist. But digging deeper, it is very symbolic.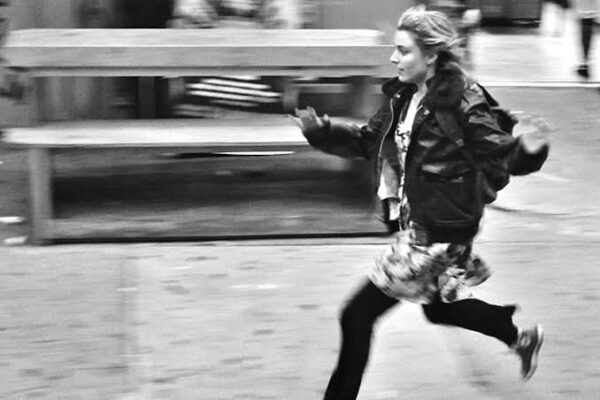 It is symbolic because it brings out the idea of incompleteness and imperfection. There is no finality in the personality of Frances. There is no line where she ends. She is spread everywhere. She is so clueless in life that it sometimes feels that her life has not even begun yet. One would several times in the film want to hold Frances and yell at her, "Please what are you doing? Get your life together. Stop kidding yourself with the dance company and inventing new job interviews."
But Frances challenges our own deep insecurities. She doesn't fit neatly into categories and her life is open to several possibilities. In the end, things do seem better for her. She is seemingly doing well in her job and there are people who want to talk to her. And one thinks, has Frances succumbed to the tyranny of modern life? Has she learned her 'ways' on how to make it? But one sees her dancing in the street and cutting her name short to fit the panel and one realizes no. She is the same Frances.
Frances becomes a choreographer and stages the performance in the end. One can again see the imperfections oozing through the performance but she says, "I like things that look like mistakes." If anything, Frances might be the true artist. It is because in embracing the imperfections, she is most closely imitating life.