Celebrity News
He's All That Is Coming To Netflix: Here's Everything We Know About The 90s Remake
For anyone who remembers 90s rom-com She's All That, starring Rachael Leigh Cook and Freddie Prinze Jr, it's clear that some of the gendered stereotypes and most of the plot (geeky girl transformed into prom queen etc etc) definitely wouldn't be winning any awards today.
This is why we are excited to learn that a modern remake is ACTUALLY happening – with the original concept completely turned on its head. It's called He's All That, of course. Yup, we're in for a gender-swap.
What is the plot for He's All That?
If you're familiar with the She's All That plot, this is similar, but the gender roles have been entirely swapped. The storyline will follow influencer, Padget, who accepts a challenge to turn the school geek Cameron into prom king.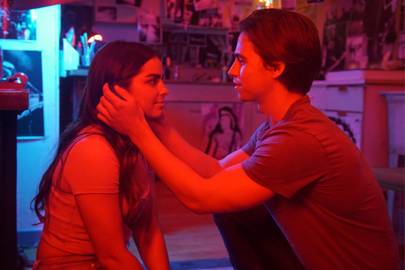 We don't know much more at this stage but we are hoping there will be some strong messaging that looks aren't everything and suddenly making someone appear cooler doesn't actually change things. Watch this space!
Who stars in He's All That?
Now, this is kinda exciting because two of the original She's All That stars have signed up to star in He's All That – alas, older versions of their former characters.
Rachael Leigh Cook is starring in this remake as Anna Sawyer, the mum of the new lead, Addison Rae. This will be TikTok star Rae's first film role where she will play Padget Sawyer, the influencer who gives Cameron a prom king makeover.
Matthew Lillard who also starred in She's All That returns in He's All That, though we don't know much about his role as of yet. Cobra Kai's Tanner Buchanan stars as Cameron Kweller. Also joining the cast are Madison Pettis (American Pie Presents: Girls' Rules), Peyton Meyer (Girl Meets World), Isabella Crovetti (Colony), Annie Jacob and Myra Molloy.
Mark Waters (of 90s flicks Mean Girls and Freaky Friday) is directing, with She's All That's original writer R Lee Fleming Jr returning to pen the remake.
When is He's All That out on Netflix?
While we know the film will be debuted on Netflix, we don't have a confirmed release date yet other than the fact the streaming giant has said it's "set to be released globally on Netflix later this year."
Where can I watch the He's All That trailer?
Unfortunately there's no sign of a trailer yet but we'll be keeping an eye out!