Reality TV
NBA star Tristan Thompson greets girlfriend Khloé Kardashian on Mother's Day amid cheating allegations
NBA star Tristan Thompson has boldly wished his on-off girlfriend Khloé Kardashian a happy Mother's Day amid claims he was unfaithful in the relationship.
The Boston Celtics player greeted the reality star on Instagram Stories today as the special occasion took place in the US, sharing a photo of Kardashian and their three-year-old daughter, True.
"Happy Mother's Day @khloekardashian," 30-year-old Thompson wrote in the post, before adding "I love you" along with two heart emojis and a kissing face emoji.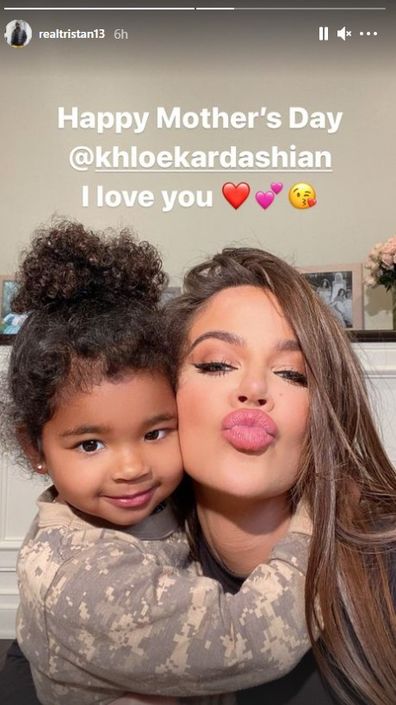 Kardashian has not publicly responded to the post, but she did share a series of videos on her Instagram Stories as she marked the occasion with her famous family. Watch the videos above. 
The 36-year-old also paid tribute to her mother, Kris Jenner, in a separate post.
"Happy Mother's Day to my Queen! You are my heartbeat!!! Without you we are nothing!" she wrote while sharing a photo of them on Instagram. "Thank you for EVERYTHING you do for each and every one of us. You are love in human form.
"I will never be able to express how much we all love, adore and cherish everything about you But I will try every single day. I love you queen mommy 🤍👑."
READ MORE: Mother's Day 2021: How the stars are celebrating
Thompson's public greeting comes amid cheating allegations made by model Sydney Chase, who claims she had a sexual encounter with the basketball player in January after he had recently reunited with Kardashian.
Chase claims she didn't know the couple were back together but she ended their alleged fling after finding out.
"He told me he was not in a relationship anymore, so I said OK," she alleged on the No Jumper podcast on April 23. "We talked, we hung out multiple times, we went out together, everything. It happened, and then I found out he was not single, and I cut him off."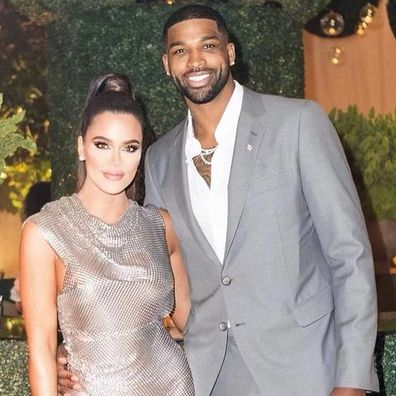 Thompson has repeatedly denied Chase's allegations and his lawyer, Marty Singer, has since sent a cease-and-desist letter to Chase. 
"It is obvious that you are a liar. Your claim that you had a relationship with Mr. Thompson is pure fiction," the letter reportedly read.
"The purported texts you claim exist are equally fictitious, and they put words in my client's mouth that he never said that are contrary to his thoughts and feelings. This is defamatory."
READ MORE: Tristan Thompson's lawyer replies to model Sydney Chase's 'liar' remarks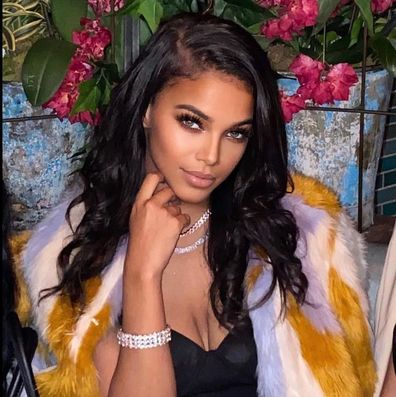 When Chase fired back and said she won't comply with the cease-and-desist letter nor will she be called a liar, Singer asked her to provide evidence of the alleged affair.
"Notwithstanding continued requests from me and from the press to provide the texts to back up your specious accusations, you have refused to do so," Singer wrote last week in a follow-up statement obtained by Page Six.
READ MORE: Model Sydney Chase says she won't be silenced by legal threat following alleged Tristan Thompson fling
"On three separate occasions including my email today, we have asked you to give us copies of the texts you claim you received from my client, but you have refused.
"Articles published by multiple media outlets state that they also asked you for copies of the purported texts to prove their existence. While you claim that your statements about the texts are not false, you persistently refuse to provide evidence that they exist and allegedly support your claims … The inescapable conclusion is that they do not exist."
For a daily dose of 9Honey, sign up here to receive our top stories straight to your inbox